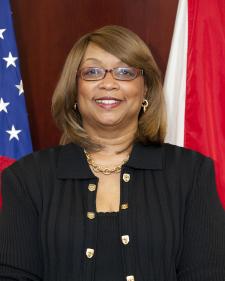 Samuetta Hill Drew is a recently retired Chief Operation Officer.  Ms. Drew was employed for thirty-eight (38) years with Birmingham City Schools.  Her last twenty-two (22) years were in administration, with the latter fifteen (15) as a senior administrator who directly reported to the superintendent.  She served her first sixteen (16) years as a classroom instructor at all k-12 academic levels in all three major disciplines – regular, special and career and technical education.  Ms. Drew is a former elementary and middle school principal.  Each school under her leadership was academically successful and received national, state and local recognitions and honors.  Including features on CNN for a school wide etiquette program and in Cooking Light Magazine for a reduced calorie lunch program.  
Ms. Drew's career with Birmingham City Schools was distinguished by advancements through a series of increasingly responsible administrative leadership positions.  Ms. Drew served as a Senior Area Executive Director where she supervised twenty-four (24) school principals and twelve (12) central office staff.  She then became the Senior Executive Director of Student Support Services, followed by a promotion to Human Resources Officer, and then later promoted to Chief of Schools and finally Chief Operations Officer.
Ms. Drew is currently the Senior Executive Director of Security Operations for JonesGroup LLC where she spearheaded the creation of this third division within the company in 2014. The division of Security Operations conducts safety assessments and training for various types of companies, educational entities and professional organizations.  She also currently writes a weekly safety column for a statewide newspaper, The Birmingham Times where she addresses safety issues for the everyday person. 
Ms. Drew has received many honors and awards, and has served on numerous local and state boards including: Alabama School of Fine Arts Board of Trustees; Cahaba Girl Scouts; Girls Inc.; and the Birmingham City Planning Commission where she was the first female chairperson.  She currently serves on the Alabama Beverage and Control Board.  She is an active member of her sorority, Alpha Kappa Alpha Incorporated and the inaugural president and charter member of the Tri-County (Alabama) Chapter of The Links Incorporated. 
Ms. Drew received her undergraduate degree from Tennessee State University located in Nashville, Tennessee and her graduate degree and post graduate studies from The University of Alabama at Birmingham.  Ms. Drew is the mother of one adult daughter and an active, lifetime member of the Methodist Denomination where she has served as a past trustee and current steward of her church.
 
(Return to Board Members Page)